Miami Beach Personal Injury Lawyers
When you think about South Florida, chances are one locale comes instantly to mind—Miami Beach. The city has one of the most ethnically diverse populations in the country, with over 150 different ethnicities calling Miami home while speaking over 60 different languages.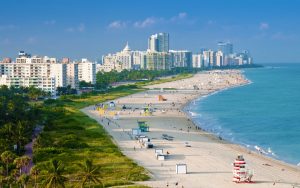 The city itself has a population of 88,000, but it is also a tourist destination for many. Whether you are looking for Art Deco architecture, historical museums, pristine beaches, or hot music clubs, Miami has a little bit of something for everyone. And if that doesn't interest you, then you can always take part in one of the biggest pastimes of the local residents—celebrity watching. Miami brings in actors, musicians, and other celebrities of all levels and notoriety looking for the nightlife.
How Miami Beach Car Accident Lawyer Help in My Accident Case?
With all of the different ethnic groups that call Miami home, it should come as no surprise that the area is also home to many first-generation immigrants. Some of these are not only new to the country—but they are also new to driving. South Florida has an almost epidemic level of car accidents when compared to the rest of the country. Although you may not want to think about it if you live in Miami, there is a pretty good chance that you may be the victim of a car crash as a result of the negligence of such a new arrival to our country or from one of the many tourists who are too busy following GPS to keep their eyes on the road. If you are the victim of such a car accident, you do not have to suffer in silence. Instead, you can seek restitution from the person who has carelessly injured you. The attorneys at the law offices of Wolf & Pravato are here to help you seek compensation for your medical bills and lost wages that follow from such an accident.
How Persona Injury Lawyer in Miami Beach Help in Negligent Behavior That has Caused Injury?
As with any major metropolitan location, there are thousands of businesses in the Greater Miami area. However, some businesses have been guilty of negligent behavior that has caused injury to its customers. This can include tainted food that is sold at restaurants or faulty automotive equipment such as bad tires or ineffective brakes. From the manufacturer to the distributor, the Miami Beach personal injury lawyers at the law offices of Wolf & Pravato can weed through the legal morass to help determine exactly who is responsible for your injuries and who should be held accountable. Once again, restitution including lost earnings and lost earning potential can be sought, as can compensation for pain and suffering.
How Miami Beach Personal Injury Attorneys Help to Full Compensation of Your Injury?
Florida is a wonderful location whether you live here full time or are just visiting. But, as with any location, accidents happen. However, you should not just write this off if you are the victim of some else's erratic and negligent behavior. Florida law is very specific about the time limit you have to bring a case forward and about how much compensation you can receive. That's why it is so important to contact a knowledgeable Miami Beach personal injury law firm who can help steer you through these legal entanglements.
Contact Our Miami Personal Injury Attorney For More Help
The Miami Beach  the law offices of Wolf & Pravato can do just that for you. If you are in the Miami Beach area, then you can contact us for a free consultation by either calling 954-633-8270 or by visiting our Miami offices on the eleventh floor at 1111 Brickell Avenue. You can also contact us at info@wolfandpravato.com. Let us help you get the justice that you are owed.
Police Departments Serving Miami Beach, FL Miami Beach Police Department
1100 Washington Ave.
Miami Beach, FL 33139
Hospitals Serving Miami Beach, FL Mount Sinai Medical Center
4300 Alton Rd.
Miami Beach, FL 33140
Miami Beach Community Health Center
11645 Biscayne Blvd
Miami, FL 33181
Courts Serving Miami Beach, FL Miami Beach District Court
1130 Washington Ave. #200
Miami Beach, FL 33139
Miami-Dade County Courthouse
73 W Flagler St.
Miami, FL 33130
Dade County District Court
225 Washington Ave.
Miami Beach, FL 33139
FREECASE EVALUATION