Responsibility & Liability for your Car Accident
When a car accident leads to a vehicle fire, your property damage losses could be devastating—not to mention, you could face other injuries and losses. In Florida, you could have multiple legal options to make a financial recovery, depending on who bears responsibility for the crash.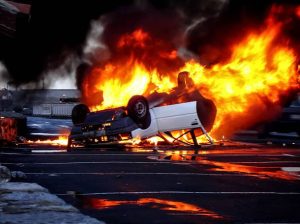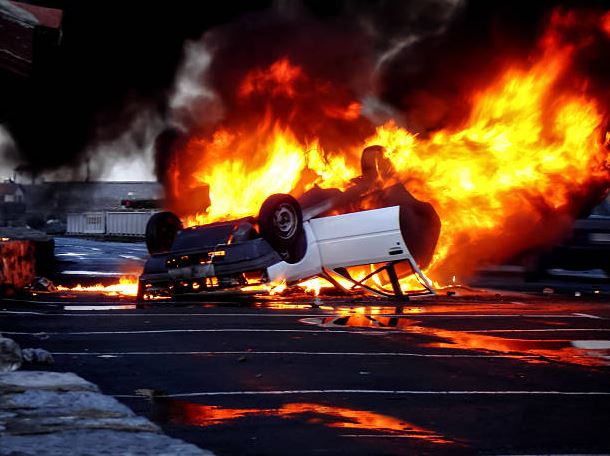 Multiple parties could face liability for your car accident fire, including another driver or even a vehicle parts manufacturer. However, suppose neither of these parties is deemed liable for your crash and injuries. In that case, you likely will need to go through your insurance to recover any accident-related costs and losses. A Fort Myers car accident lawyer can help you understand your options if your car accident resulted in a fire.
Financial Recovery Options After an Accident Involving a Vehicle Fire in Florida
After any accident, you should be aware of how Florida's no-fault rules could affect your options for a financial recovery including when a vehicle fire is involved.
As mentioned above, you can seek compensation from another driver's liability insurance under certain circumstances, per Florida Statutes § 627.737. This includes when the other party was at fault and you have serious injuries. So, if you are suffering serious burn injuries or you now face challenging physical disfigurement as a result, you could go through the at-fault driver's insurance for compensation. In this situation, you could seek compensation for:
Property Damages
Scarring and Disfigurement
Lost Income
If the other driver was responsible for your crash and injuries but lacked insurance coverage, you could pursue compensation through your underinsured/uninsured motorist policy if you carry one.
Seeking Compensation Through Your Own Insurance 
On the other hand, if your car caught fire during a crash but you were not seriously hurt, you may need to seek compensation for vehicle damages from your own insurance coverage. This would generally proceed through your collision coverage.
However, the state of Florida does not require that you purchase collision coverage. (Florida Department of Highway Safety and Motor Vehicles) If you are financing a vehicle, the dealer could have required it upon purchase. In most other circumstances, you will need to have elected this coverage. An attorney can review the applicable insurance policies and help you understand your options.
When a Vehicle Fire Results From Faulty Design or Repair
In a different scenario, your vehicle fire could have resulted from mechanical defects or even negligent repairs. An attorney can help you investigate how the vehicle fire could have occurred.
For instance, certain vehicles could have fuel hose defects that make them more likely to cause engine fires. Other mechanical defects could also increase the chances of a vehicle fire.
A mechanic could have also contributed to the vehicle's fire risk through negligent repairs. Loose caps or broken seals could cause dangerous fuel leaks, or frayed electrical wires could also cause a fire. If these forms of negligence led to your vehicle fire, an attorney can help you seek compensation from the appropriate liable party.
How a Car Accident Lawyer Can Help You Seek Compensation
No matter how your accident and vehicle fire occurred, you could be facing serious damages. A Fort Lauderdale car accident lawyer can help you understand your options and handle the entire financial recovery process on your behalf. They may: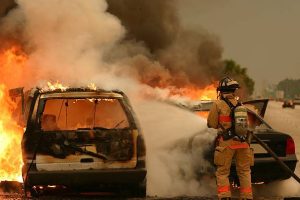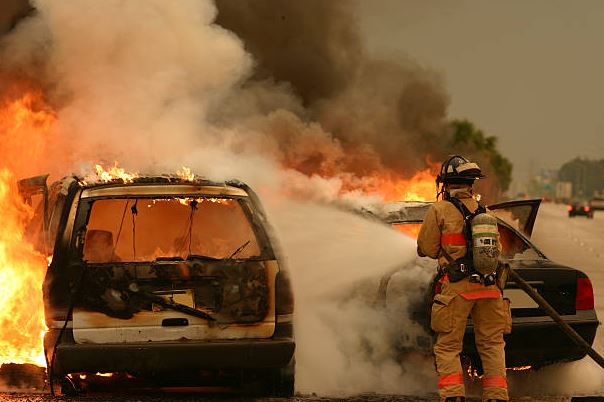 Investigate your accident and determine who is liable for the crash and fire
Handle all communications with the responsible party for you
Determine the extent of your damages and how much you could recover
Speak for your best interest throughout your case
Handle push-back and challenges during the claims process
File an insurance claim or a lawsuit
Essentially, a car accident lawyer's job is to seek the best possible compensation available in your case. To that end, they'll anticipate the common challenges you could face as you make your financial recovery and guide your case through those challenges.
For instance, the other party may try to deny your claim for compensation or say that your injuries aren't as serious as they are. A Fort Lauderdale personal injury lawyer can use evidence from your case to show how the accident happened, how the vehicle caught fire, prove the extent of your damages, and fight for the recovery you deserve.
Call us at the Law Offices of Wolf & Pravato

Florida no-fault rules and insurance policies can be complicated to navigate. After an accident, you may want help with understanding your next steps.
Call the Law Offices of Wolf & Pravato for a free consultation. We will listen to your story and help you make a recovery after a car accident and fire. You can count on us to seek every dollar available in your case. Contact us today at (954) 633-8270.