If you were injured in a scooter accident in Miami, you are likely facing medical expenses and missing time at work as you recover from your injuries. You should not have to pay for these expenses. Rather, they should be shouldered by the person or party responsible for the accident.
If you get into a scooter accident a Miami scooter accident lawyer at the Law Offices of Wolf & Pravato can fight to ensure that you are compensated by those whose negligence caused your accident. Call us today at (954) 633-8270 for a free case review.
How Scooter Accidents Happen In Miami

Scooters now litter the streets of Miami, and while they might be fun for tourists and despite their potential practicality for covering the last mile of a commute, they are creating a real problem. Untrained tourists are left to figure out how to use them, and residents must learn how to navigate around the scooters. Consumer Reports published scooter accident results from a survey they conducted in June 2019, revealing that 3,000 adults are confused about traffic rules relating to scooters.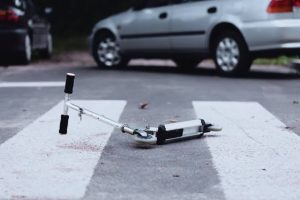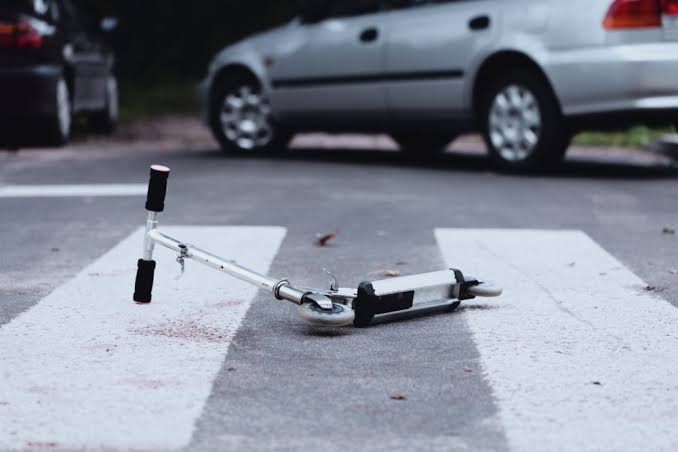 Accidents have been happening all over Miami for a number of reasons, including:
Municipalities were not given proper time to prepare roads and sidewalks for this new type of traffic.
Scooter operators ride on sidewalks, with no clear rules on how they should interact with pedestrians.
Scooters are a different type of vehicle than cars, bicycles, or even motorcycles. People—even kids—are operating them for the first time, with no training, on Miami streets and sidewalks.
Scooters are dropped wherever their operator decides they're done with them, which often leaves the scooters exposed to extreme conditions that can cause the scooters to malfunction.
Inspections are lacking, with many scooters suffering from malfunctioning software, collapsing handlebars, motor problems, and abrupt stops—all of which are risk factors for accidents.
Injuries From Scooter Accidents In Miami

One out of every three electric scooter accident victims ends up in the emergency room, according to a study conducted by the University of California, with most of these injuries stemming from falls or collisions with other vehicles or objects.
Like bicyclists and motorcyclists, scooter operators are completely exposed as they drive around town. When an accident occurs, the operator is not shielded in any way from injury. Most do not wear helmets, either, which is why brain damage is not an uncommon outcome from scooter crashes.
Other factors in the severity of the injuries include the speed at which these scooters operate—at up to 15 miles per hour, they're faster than a bicycle—and their lightweight. The result is that a scooter operator can be thrown violently when they collide with another vehicle, a pedestrian, or even rock on the sidewalk.
The force of a collision with a larger vehicle amplifies the force of the crash, generating potentially severe—even fatal—injuries.
Some of the most common scooter accident injuries include:
Traumatic brain injuries
Concussions
Bruises, contusions
Cuts, scrapes
Internal bleeding
Black eyes
Head fractures
What a Miami Scooter Accident Lawyer Can Do to Help You
A Miami scooter accident lawyer from the Law Offices of Wolf & Pravato can help you by identifying who is at fault for your scooter accident. Our legal team will investigate your accident and unearth every scrap of evidence that supports your case.
We will use this evidence to meet the legal requirements for establishing liability. Specifically, these are:
Duty of Care: The defendant owed you a duty to take reasonable steps to ensure your safety.
Breach of Duty: The defendant failed to uphold this duty of care.
Causation: The defendant's breach of duty caused your scooter accident.
Damages: You suffered damages—physical, emotional, and economic—as the result of the accident.
Our legal team will build a compelling case and file a lawsuit against a scooter company that will make it hard for insurance companies and/or juries to deny your compensation.
Types of Damages You Might Recover From a Scooter Accident
Every accident and case is different, and so the damages that one scooter accident victim recovers may not be the same as what you recover. Some types of damages you might recover include:
Medical expenses
Prescription medicines
Lost wages and benefits
Pain and suffering
Mental anguish
The Scooter Company Might Be Liable
Scooter rental companies like Bird and Lime have been accused of gross negligence in many lawsuits, including class-action lawsuits. If the circumstances of your accident and injuries resemble those of the original plaintiffs in a class-action lawsuit, you may be entitled to receive a portion of the final settlement.
However, if your injuries are significant, you may want to consider pursuing a separate legal action. A Miami scooter accident attorney at the Law Offices of Wolf & Pravato can explain to you your legal options and represent you in whichever course of action you decide to take.
Call our office today at (954) 633-8270 for a free consultation.
What to Do After a Scooter Accident In Miami

Florida's statute of limitations restricts the amount of time you have following your accident to take legal action. Our Miami Scooter accident lawyers team will ensure you do not miss this deadline so your case can be heard and you can recover the damages you deserve.
Keep in mind, too, that the sooner you hire a Miami personal injury lawyer, the sooner they can begin building your case using fresh evidence and testimony from witnesses who still vividly recall the details of your accident. Call the Law Offices of Wolf & Pravato today for your free case review: (954) 633-8270.
Read our blog related to scooter accident: