How Common Are Motorbike Accidents in Lakeland?
Florida Highway Safety and Motor Vehicles (FLHSMV) keeps track of how many accidents occur throughout the state every year. This includes how many motorcycle accidents happened in Lakeland, Florida. In 2022, they found that there were 303 motorcycle accidents in Polk County. Twenty-one people died in these motorcycle accidents, while 256 people were injured.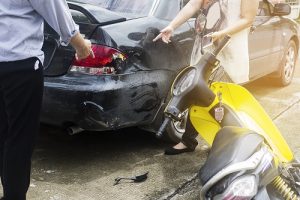 Why Motorcycle Accidents Happen in Lakeland
Often, a Florida motorcycle accident will occur as the result of negligence on the part of:
A Driver
Drivers of cars and trucks should always be on the lookout for more vulnerable road users, such as motorcyclists. Failure to do so could mean that they:
Swerve into the motorcyclist's path, not realizing the motorcyclist is there
Do not give the motorcyclist room to maneuver, forcing them off the road or into oncoming traffic
Directly hit the motorcyclist
Property Owners and Managers
The environment can pose just as many dangers to motorcyclists as other road users. For example:
A local government might fail to fix a broken traffic light or replace a fallen stop sign quickly enough.
Someone mowing the lawn on private or public property might leave grass in the road, leading to a motorcycle accident by grass clippings.
A lack of streetlights could make it harder to see approaching hazards, including other vehicles.
The Motorcyclist
The National Highway Traffic Safety Administration (NHTSA) reports that there are several ways a motorcyclist can suffer injuries through careless behavior, such as:
Not wearing their helmet, which would have protected them from more serious injuries during the crash
Failing to take their motorcycle in for maintenance regularly
Exhibiting reckless behavior, such as riding while drunk or ignoring the rules of the road
What if You Are in a Motorcycle Accident?
The first thing you should do after a motorcycle crash is to call 911. This will bring the police and, if necessary, an ambulance to the scene. While waiting for them to get there, you could take the following actions to protect yourself and your case:
Move your vehicle out of the way if it is in danger of being hit again by oncoming traffic.
Get the name and contact information of the person who hit you.
Get the names and contact information of witnesses who can confirm or add to your version of how the accident happened.
Take photos of the damage to your vehicle or your body.
After the accident, you can also take the following actions:
Make sure you follow your doctor's orders so that you can reach your maximum medical recovery. Your medical records can also serve as invaluable evidence of your losses. This will allow your Florida motorcycle accident lawyer to seek fair compensation and get an idea of any future medical costs that will arise.
Can You Sue Over a Motorcycle Crash?
A lawsuit could enable you to collect compensation for many losses stemming from the motorcycle accident, including lost wages and reduced quality of life. However, you only have the right to sue for compensation if:
You file your case within the new statute of limitations. According to Page 8 of HB 837/SB236, this means filing within two years of the accident.
You can prove that your own liability does not exceed 50 percent, as stated on Page 30 of that same bill.
You can prove the at-fault party caused or contributed to your crash by behaving negligently or recklessly.
It may take a while to settle or otherwise complete your case. The sooner you get started on it, the better you can protect your right to seek compensation. The last thing you want is to miss out on your chance to recover your losses, which could happen if you miss the state-imposed deadline to file a lawsuit.
A lawyer from our firm can determine how long you have to take legal action and keep an eye on the clock as they negotiate with insurers. Keep in mind that negotiations and investigations do not stall the deadline to file a lawsuit. This is why it's better to begin your case early on.
After a Motorcycle Accident in Lakeland
If you or someone you love suffered injuries after a motorcycle crash, the team at the Law Offices of Wolf & Pravato wants to be there for you. Motorcycle accidents in Lakeland can rob you of your health, your career, and your financial stability. You may have even lost a loved one in a motorcycle crash. We can discuss how our motorcycle accident team can help you during a free, no-obligation consultation. Contact or call us today at (954) 633-8270 for a free consultation. The sooner you call, the sooner we can begin working on your case.