According to the National Highway Traffic Safety Administration (NHTSA), 36,560 people lost their lives in fatal vehicle accidents in the United States in 2018. Car accidents result in tens of billions of dollars in losses every year in the form of medical treatment costs, insurance overheads, lost income and wages, and property damage.
Distracted driving—and texting and driving, in particular—is a serious public health issue. According to the NHTSA, texting while driving and distracted driving caused or contributed to 2,841 deaths in 2018, with hundreds of thousands of more victims suffering a wide range of injuries—some permanent and life-altering—because of driver negligence and inattention while behind the wheel.
Accidents Caused by Texting While Driving in Fort Myers

At a speed of about 55 mph, a vehicle will travel the length of a football field in about five seconds. That is the average time that someone who texts from behind the wheel takes his or her eyes off the road. What makes texting and driving especially dangerous is that it involves mental, visual, and manual distractions because the driver takes his or her attention away from driving, looks away from the road ahead, and takes his or her hands off the wheel to interact with a handheld electronic device.
Texting and driving can lead to:
Dangerous merging and blind spot accidents.
Lane-change and side-swipe accidents.
Front and rear-end accidents.
Dangerous swaying within or between lanes.
Rollover accidents.
Jackknife accidents when trucks are involved.
Undercarriage or underride accidents.
Intersection, pedestrian, and bicyclist accidents.
Road fixture or roadside property accidents.
Why Text While Driving Is Dangerous in Fort Myers?
Texting and driving accidents can lead to serious monetary losses and bodily harm. Some of the losses commonly seen in texting and driving cases include:
Property and vehicle damage.
Income losses from an inability to work.
Medical care costs.
Medicine, diagnostic testing, and assistive device costs.
Injuries commonly seen in texting and driving accidents include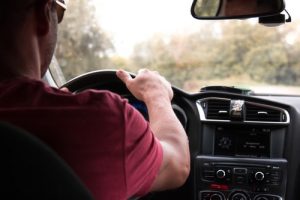 Traumatic brain injuries.
Spinal cord damage.
Internal organ damage.
Lacerations and contusions.
Abrasions and disfigurement.
Burns, fractures, and broken bones.
Eye, mouth, and dental injuries.
Nerve, muscle, and ligament damage.
Treatments for these injuries—particularly for severe injuries, such as spinal cord damage and traumatic brain injuries—can cost tens of thousands of dollars per incident. Furthermore, even a few weeks away from work can place a family's financial stability in serious jeopardy. If you were involved in an accident that was caused by someone else's negligence, carelessness, or recklessness, you may have grounds for texting while driving a lawsuit.
Evidentiary Requirements and Filing a Claim in a Car Accident in Fort Myers
To file texting while driving lawsuit, you must be able to prove that the negligent actions of another road user were the direct reason that an accident occurred and that the accident led to physical, financial, or other losses on your part. You must also be able to prove the extent of your losses or injuries using evidence, such as:
Cellphone usage records to prove to text while driving or distracted driving on the part of the at-fault driver.
Medical care and treatment bills to prove your injuries.
Vehicle repair estimates—or the residual value of a totaled vehicle—to prove vehicle damage losses.
Income statements or pay stubs to prove income, salary, or wage losses.
Other forms of evidence that may be used in a texting while driving lawsuit include a police report on the accident, eyewitness statements, and dashcam footage or pictures from the accident scene.
Our Experiences Accident Lawyer Help in Your Texting While Driving Case
The Fort Myers car accident lawyers can be reached at (954) 633-8270. Depending on the specifics of your case, we may be able to help you with a texting and driving accident. We can help you:
Collect the evidence needed to substantiate your claims.
Estimate the value of your losses and injuries.
Submit a demand letter to the at-fault party's insurer (this letter is required for many types of claims).
Submit the testimony of a medical injury expert along with your claim (this testimony is also a requirement for certain personal injury claims).
Help you compile all of your property, injury, and job-related costs and losses that accrue to you from the accident.
Ensure you meet important filing deadlines and meet the various evidentiary, administrative, and legal requirements for your case.
Negotiate with the at-fault party's insurer or his or her representatives for a settlement.
Represent you in court if we cannot reach a settlement.
Contact The Law Offices of Wolf & Pravato
Statutes of limitations apply to Fort Myers personal injury and vehicle accident cases, so please do not delay. Contact the Law Offices of Wolf & Pravato today for a free case evaluation. We provide services on a contingency-fee basis and do not collect unless you win your case, so do not hesitate to reach out to us today.