Workers Compensation Attorney Boynton Beach
If you have recently been injured in an on-the-job incident in Boynton Beach, you may be eligible to file a workers compensation claim and receive money to pay for a number of expenses, including your medical bills, lost wages, and more. A workers compensation lawyer in Boynton Beach can help you file and fight any attempts by your employer to deny your claim. We will help you collect the money you deserve as quickly as possible.
At the Law Offices of Wolf & Pravato, our work injury attorneys in Boynton Beach not only have a long and successful track record of winning money for our clients, but we also pride ourselves on giving attorneys a good name. We emphasize honesty, transparency, communication, and client service at our firm, and our clients are like family to us. The outcome of your claim matters as much to us as it does to you; that is why our workers compensation lawyer Boynton Beach never collect a fee until you get paid.
To set up a free, no-obligation Boynton Beach workers compensation case evaluation today, call us at (954) 633-8270.
Boynton Beach Workers Compensation Claims

The workers compensation lawyers in Boynton Beach at the Law Offices of Wolf & Pravato can help you recover compensation no matter how your on-the-job injury occurred, from the commonplace to the bizarre. We have helped clients recover money for a number of work injuries, the most common of which include:
Heavy machinery accidents
Injuries from falling debris
Falls from ladders, scaffolding, or other high places
Electric shock injuries
Acts of violence
And much more
Whether your injury appears on the above list or not, our workers compensation attorneys in Boynton Beach want to hear from you, and we likely can help you recover compensation. Remember, we get paid for results only, not for our time, so you will never owe us a fee until you collect compensation.
To learn more, and to set up a free case evaluation with the personal injury lawyer Boynton Beach at the Law Offices of Wolf & Pravato today, call us at (954) 633-8270.
Workers Compensation Laws in Florida
Florida workers compensation is a type of insurance that most private employers in Florida are required to carry on behalf of their employees. Your employer pays premiums into the program, and you can file a claim if you get hurt on the job. The benefit received by employers for their premium dollars—aside from remaining in compliance with the law and avoiding fines and sanctions—is that they are largely shielded from private lawsuits filed by injured workers. Contact our Boynton Beach workers compensation attorney to learn more about your compensation.
Employees who work for companies required to carry workers' compensation insurance benefit from having a straightforward way to collect compensation in the event of an injury, but they lose the right to pursue damages from their employer in a private lawsuit. Moreover, there is always the risk of the employer denying an employee's workers' compensation claim. Our Boynton Beach workers compensation lawyer help to collect your compensation.
As you can see, workers compensation laws are skewed in favor of employees. Workers can even the scales by making sure they have an experienced and aggressive workers' compensation attorneys Boynton Beach on their side before filing a claim. To set up a free case evaluation, call us today at (954) 633-8270.
Boynton Beach Workers Compensation Claim Denials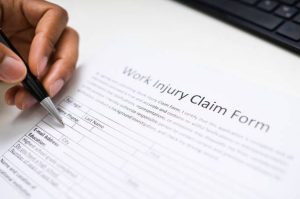 The biggest risk when you file a workers' compensation claim is that your employer denies or attempts to deny it. The law prevents them from doing so in most cases, but it includes a substantial gray area that many companies try to exploit when one of their workers files a claim.
According to workers' compensation regulations, employers cannot deny claims just because the worker was careless, negligent, or behaving improperly when the injury occurred. Even if the employee got injured solely by their own fault, they are still eligible for workers' compensation unless one or both of two conditions are present.
The first: the employee was behaving in a grossly reckless fashion at the time of their injury. In contrast, simple acts of carelessness, such as jumping off a piece of machinery before it comes to a complete stop, does not rise to the level of grossly reckless behavior.
The second condition is that the worker was under the influence of drugs or alcohol. If your employee tries to make this claim, we will fight it, backing our case with compelling evidence.
Third-Party Lawsuits
The Law Offices of Wolf & Pravato can also help you file a private lawsuit against a third-party person or company if someone other than your employer caused or contributed to your injury. Examples of third parties from whom we have won compensation for on-the-job injuries include:
Job site owners
Equipment manufacturers
Contractors
A workers compensation lawyer Boynton Beach can pursue both economic and non-economic damages in a third-party lawsuit. That means we may be able to recover compensation not only for your medical bills and lost wages but also for your pain and suffering.
Contact Our Workers Compensation Lawyers Boynton Beach For More Help
Before filing a workers' compensation claim in Boynton Beach, call the Law Offices of Wolf & Pravato. We will make sure you have the strongest chance of approval with no issues, and we will help you recover the full compensation you deserve. For a free, no-obligation case evaluation, call (954) 633-8270.
We also help the victim of workers compensation in the following cities:
Read our blogs related to workers compensation: