What types of traumatic brain injuries can result from motorcycle accidents?
Various types and grades of traumatic brain injuries (TBI) result from motorcycle accidents. They can range from mild to severe and be penetrating or non-penetrating. Regardless of the nature of the TBI, it can dramatically affect your life. You may experience persistent headaches, poor balance, or tremors. The more serious it is, the more often you'd have to go to the doctor and take off work.
These physical and financial hardships can take a toll in almost no time. Luckily, you don't have to make up these costs on your own. You may hold the responsible party accountable for your injuries and losses. A motorcycle accident attorney can assist you with the process.
Types of Brain Injuries You Can Sustain From a Motorcycle Accident
According to Cleveland Clinic, the three types of traumatic brain injuries include:
Mild: Also known as a concussion, every three out of four TBIs are mild. Symptoms, such as confusion, go on for about one day. Still, it can have lasting effects.
Moderate: Loss of consciousness ranges from half an hour to a full day, and you may experience confusion for up to one week.
Severe: You may lose consciousness for a full day, and the effects the injury has on the brain can show up in a CT scan or MRI.
The TBI you sustained could be classified as closed or open. Most TBIs are closed, which occurs when an outside force causes a jolt to the head. Although the skull didn't break, the brain could have swelled and bruised. In motorcycle accidents, hitting the ground or nearby objects or the force of the impact might have led to a closed TBI.
On the other hand, an open TBI occurs when something penetrates the skull, potentially damaging brain tissue if the object enters the brain. Sometimes, if a motorcyclist is thrown from the  fort lauderdale motorcycle accident attorney and their head strikes an object, they could suffer this severe, life-threatening brain injury.
Common Symptoms of a Brain Injury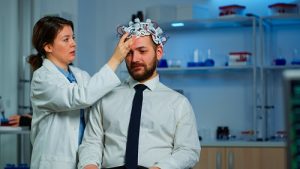 If you suffered a traumatic brain injury from a Florida motorcycle accident lawyer, be on the lookout for the symptoms. According to Mayo Clinic, some of the most common include:
Nausea or vomiting
Slurred speech
Poor balance or dizziness
Confusion
Loss of consciousness
Sensitivity to sound or light
Headaches
Poor sleep or not enough
Agitation or mood swings
Memory or concentration problems
As soon as you notice these TBI signs, get medical attention right away. Don't brush them off or try to power through them. They can get progressively worse if left untreated, and as a result, you could be looking at a long road to recovery.
In addition, prompt medical care helps with your claim, as it directly connects the crash to your TBI. This way, the insurance company has less of a reason to delay, undervalue, or deny your claim.
Damages You Can Seek After a Motorcycle Accident Brain Injury
You may be entitled to various damages after sustaining a traumatic brain injury from a motorcycle accident, such as:
Medical Bills
Mayo Clinic explains that TBI victims might undergo the following diagnostic exams and treatments:
Imaging tests
Emergency care
Medications
Surgery
Rehabilitation
If you incurred any medical costs or expect to receive follow-up care related to your TBI, you can go after a financial recovery in your case.
Lost Income and Reduced Earning Capacity
If you can't go back to work for now or ever again, you may seek compensation to account for your salary, bonuses, tips, hourly rate, employee benefits, or business opportunities. However, if you can go back to work but have to take a lower-paying position, you can request that the other party pays the difference for the money you would have earned had you not been hurt.
Pain and Suffering
Traumatic brain injuries can lead to mental and emotional turmoil, as you could experience severe mood changes, depression, or anxiety.
Although these are intangible hardships, that doesn't mean you can't have them accounted for in your motorcycle accident case. A personal injury attorney can review your wage statements, medical records, and bills, and they take your and your peers' statements on how the crash has affected your way of life.
From there, they can quantify your pain and suffering damages.
Wrongful Death Damages
Tragically, some motorcyclists don't survive a crash. In that case, the surviving family members can obtain wrongful death damages for:
Loss of financial support
Pain and suffering
Funeral arrangement costs
Burial expenses
Final medical bills
Loss of consortium
Work With a Motorcycle Accident Attorney at Our Firm
If you suffered a traumatic brain injury from a motorcycle accident, the Law Offices of Wolf & Pravato can help you seek compensation that will help you access the resources you need. contact us today at (954) 633-8270 for a free consultation.