What Kinds of Damages Could You Receive Following a Motorcycle Accident?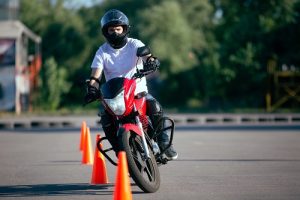 Damages awarded after a motorcycle accident could include compensation for your medical bills, property damage, loss of income, and pain and suffering. The value of your damages depends on factors such as how badly you were hurt, whether the accident totaled your motorcycle, how your injuries affect your ability to work, and the overall impact of the accident on your quality of life.
Motorcycle accident cases can be complex. Determining the value of your total losses and understanding how to seek compensation can be tricky. You can do it alone, but you might feel more comfortable working with a personal injury lawyer who can estimate the value of your possible damages after a motorcycle accident.
Possible Damages Available After a Motorcycle Accident
Every motorcycle accident is different, so there is no ballpark figure for the value of your damages. A lawyer can estimate the possible damages awarded based on the injury, its severity, your prognosis, and the motorcycle damage. Here are some damages that you may be able to recover:
Economic Damages After a Motorcycle Accident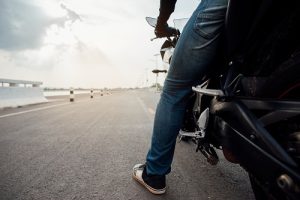 You will have unexpected bills after the accident and may have to take unpaid time off work while recovering. These losses are known as economic damages and include:
Medical expenses, such as medical imaging, surgeries, follow-up care, rehabilitative therapies, and prescription medication
Loss of income, such as any tips, wages, and salary you lost while your injuries kept you out of work
Future loss of income, if you have to take extended unpaid leave from your current position, if you have to return to a lower-paying position, or if you cannot work at all
Motorcycle expenses, such as any repair bills or the cost of a new motorcycle if yours was totaled
Non-Economic Damages After a Motorcycle Accident
You may experience intangible losses known as non-economic damages after the accident. These losses include:
Emotional trauma
Physical pain
Long recovery
Scarring or disfigurement
Permanent disability
Wrongful Death Damages After a Motorcycle Accident
Motorcycle drivers and passengers are at greater risk of death from vehicular accidents than the drivers and passengers of other motor vehicles. According to the National Highway Traffic Safety Administration (NHTSA), motorcyclists accounted for 14% of all traffic fatalities in 2021. Motorcycles simply offer little protection in an accident. If you lost a loved one in a motorcycle accident, you may be able to recover wrongful death damages, such as:
Medical expenses
Funeral and burial expenses
Loss of financial support, including wages, salary, tips, and benefits
Loss of household help, such as chores, maintenance, and childcare
A Lawyer Can Help You After a Motorcycle Accident
Understanding what possible damages could be awarded to you and knowing how to seek them after a motorcycle accident can be complex. A lawyer can assist you with this process by:
Investigating your motorcycle accident and determining who caused it
Estimating the value of your possible damages
Filing an insurance claim on your behalf
Negotiating an out-of-court settlement with the at-fault party's insurance company
Filing a lawsuit against the at-fault party and representing you in court
File Your Motorcycle Accident Lawsuit Before Time Runs Out
After a Florida motorcycle accident lawyer , you have to take care of so many details that it can feel overwhelming. Your first priority, of course, is to get the medical care you need. The weeks and months after the accident can be filled with visits to the doctor and therapy appointments, and it might take all your energy to get through each day. It is easy to let everything else slide while you recover.
One detail you cannot afford to let slide, though, is filing a lawsuit against the at-fault party before the legal deadline. A lawsuit might be your best legal option for recovering compensation after the fort lauderdale motorcycle accident attorney, but you must file it before time runs out. Otherwise, you might forfeit your right to sue.
Each state sets its own legal deadline. For example, Florida Statutes § 95.11 sets the statute of limitations for most personal injury and wrongful death cases at two years. This law means that in Florida, motorcycle accident victims have two years from the date of the accident to sue for personal injury, and the families of victims killed in motorcycle accidents have two years from the date their loved ones passed away to sue for wrongful death.
Contact the Law Offices of Wolf & Pravato After a Motorcycle Accident
At the Law Offices of Wolf & Pravato, we fight for people like you who have suffered personal injuries because of someone else's carelessness. We pride ourselves on providing our clients with an honest approach, responsive legal care, and prompt communication. Our lawyers are ready to help you understand what possible damages could be awarded to you after a motorcycle accident, so contact us (954) 633-8270 to start a free case review.