Demand Letter to Settle Personal Injury Claims
A demand letter is used to settle personal injury claims as part of the insurance claim or lawsuit process. This letter is typically addressed to the responsible party's insurance company—or in some cases, the responsible party themselves. The letter aims to demonstrate to the other party that you suffered costs and losses due to their negligence, and you are demanding compensation for those damages.
Writing and sending a demand letter that motivates an insurance company to respond to your request for compensation can be challenging. A Fort Lauderdale personal injury lawyer can write and submit a personal injury demand letter for you.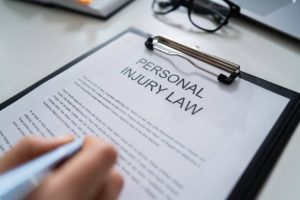 What Elements Are Included in a Demand Letter?
Your demand letter is the first formal step in initiating your legal case. With that in mind, the demand letter should have the potential to get the liable party's attention and clearly demonstrate your grounds for a claim—and a potential lawsuit, if applicable to your situation.
Be sure to include these crucial details in your personal injury demand letter:
An Account of the Accident
Detail the facts of the accident or vehicle collision. Be sure to keep the account neutral, straightforward, and succinct, referring to information from the police report or an incident report. Include details such as:
The location, date, and time of the incident
If this was a car accident, describe the types of vehicles involved, including your own
The events immediately leading up to the incident, including any details about what caused the accident
The actions the other party took (or failed to take) that were negligent, including any traffic violations they committed
Remember that you are attempting to show why the other party was responsible for the accident. While you should refrain from inflammatory language, demonstrate in clear terms how the other party failed to uphold their duty of care to you.
Background Information About Yourself
Explain who you are so the liable party understands how you were affected by the accident. Be sure to include information about your career, describing your position, where you were employed at the time of the accident, and what salary or wages you earned.
A List of Your Damages
Many forms of compensation are potentially recoverable through an injury claim or lawsuit. You should include all your costs and losses associated with the accident, such as:
Medical expenses: Include specific information on all medical expenses resulting from your injuries, including all past, present, and future expected costs. Examples could be ambulance rides, emergency room care, diagnostic testing, medications, surgeries, physical therapy, chiropractic care, and more.
Lost wages and reduced earning capacity: Your injuries may have kept you from working for either the short term or long term. List information about paychecks you missed. If you had to take a different job or go part-time for the foreseeable future, describe how your wages have been affected by the injury. If you have a statement from your employer, include this in your demand letter.
Other financial losses: Many other expenses may have come up after the accident. Give details about these out-of-pocket expenses, such as transportation costs or medical equipment.
Pain and suffering: Your compensation can reflect the extent of your physical pain and emotional hardships related to the injury. If your state places a cap on pain and suffering compensation, you can use this as a point of reference in making your case for damages.
There may be other forms of damages available in your case. It is often helpful to work with a personal injury lawyer in Fort Myers to understand all the types of compensation you could list in a demand letter.
The Settlement Amount Demanded
Finally, you will calculate the total amount of compensation you deserve. Add up the costs of your medical expenses, lost wages, other out-of-pocket expenses, and the number you feel you deserve for your pain and suffering. Then, you may want to increase this number significantly in a demand letter, since you can generally expect to negotiate your settlement amount with an insurance company.
Evidence Supporting Your Statements
Include any evidence that could support your claims. This may include pay stubs, medical bills, medical records, police reports or incident reports, witness statements, or your doctor's testimony.
What You Should Not Include in a Demand Letter
Again, the demand letter should present a strong case, outlining who is responsible for your injuries and losses and why they should pay. Avoid making any statements that could detract from the strength of that argument. For instance, steer clear of any comments that could be misconstrued as an admission of fault.
If you feel guilty or are unsure how much of a role you played in an accident, consider discussing your case with a lawyer first. They can explain how your involvement in the incident might affect your compensation—and how to present this information so you can seek the best possible results in your case.
Get a Free Case Review from the Law Offices of Wolf & Pravato
It can be difficult to know what you should include in a personal injury settlement letter. Whether you were in a car accident, a pedestrian accident, a slip and fall accident, or another type of injury accident, we can help. The Florida personal injury attorneys at the Law Offices of Wolf & Pravato treat our clients like family—and we know how to show the liable party what you should be paid. Let our team fight for you. Call us today at (954) 633-8270 for a free case review.