The Dangers of Crush Injuries After a Car Accident?
After a car accident, one of the biggest dangers of a crush injury is the risk of infection. MedlinePlus reports that without intensive medical care, one could suffer bacterial infections that cause fevers, nausea, vomiting, and other ailments. These infections can also lead to death.
There are other complications one could face after a crush injury, too. The Law Offices of Wolf & Pravato advocate for victims of crush injuries and their loved ones. If you were hurt in a car accident, our Miami personal injury lawyer team wants to hear from you. Call (954) 633-8270 to begin a free consultation.
 A crush injury is when a body part is compressed between two objects. For instance, a pedestrian may suffer crush injuries if a car runs them over. The compression would nearly destroy the tissues, muscles, and nerves in the affected body part.
Here are some complications an injured person could face: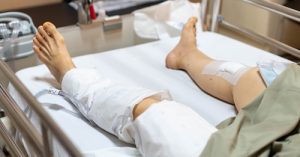 At the Accident Scene
Crush injuries require immediate medical attention. According to Mayo Clinic, without prompt aid, a crush injury victim could go into shock, suffering a significant drop in blood pressure. If the organs don't get enough oxygen, the injured person could die.
Another danger is blood loss. A serious crush injury could cause a person to bleed out in a matter of minutes. Even if given a blood transfusion, the lack of oxygen flow could cause a traumatic brain injury. These irreversible conditions can result in cognitive impairments, limited mobility, and other lifelong complications.
In the Days After the Accident
The immediate aftermath of a collision is touch-and-go. Your doctor might not know whether a limb needs amputation right away. Even if you have a healthy immune system, you could face life-threatening infections. For instance, if you develop sepsis, your condition could go from bad to worse within hours.
It's vital that you adhere to your doctor's orders immediately after suffering a crush injury. This may include remaining hospitalized for an indefinite period.
In the Months After the Accident
As you likely know, the dangers of a crush injury don't end at the accident scene. Odds are, the injured person will require months of medical intervention to recover––if a full recovery is even possible.
For the sake of explanation, consider a car accident victim who suffered a crush injury to their hand. If the limb is beyond repair, a healthcare professional may recommend amputation. That alone would come with its own set of challenges––such as having to adapt to only using one hand.
Crush injuries also come with hefty medical costs. The National Safety Council (NSC) conducted a study involving workers' compensation claimants who suffered crush injuries. The organization noted that these injuries cost at least $36,000 to treat. This means if you suffered a crush injury, your financial future could be in jeopardy.
What Should I Do After Suffering a Crush Injury in a Car Accident?
As the information above suggests, you should immediately get medical attention. A crush injury can quickly turn into a life-or-death condition. Prompt medical attention could also give you more options when it comes to treatment. For instance, a doctor could save a crushed limb instead of immediately resorting to amputation. They can also get a head start on mitigating the risk of infection.
Other post-accident considerations include:
Following Your Doctor's Orders
You might have a laundry list of expectations while undergoing care from a treatment provider. Your doctor may ask that you take various medications to prevent infection and promote healing. They may also recommend physical therapy to help you regain control of an affected limb. You should follow through with these obligations, so you can reach maximum medical improvement.
Seeking Mental Health Services
Suffering a crush injury is nothing short of traumatic. You could develop post-traumatic stress disorder (PTSD), which could cause anxiety, depression, ongoing fatigue, and nightmares. Certain triggers could also remind you of the accident and your injuries, causing panic when going about your day-to-day life.
A mental health professional can offer much-needed support during a trying time.
Consulting a Personal Injury Lawyer
As noted, suffering a crush injury can generate thousands of dollars in medical bills and associated care costs. These expenses can strain your resources––especially if you're out of work during your recovery period. If another party's negligence caused your crush injury, you could seek damages through a personal injury claim or lawsuit.
Yet, you don't want to undertake the legal process alone. Instead, you may consider partnering with a Florida car accident lawyer. They can investigate the collision, file a claim, and negotiate a fair settlement with the liable insurer. They can also litigate your case if an insurance settlement isn't forthcoming.
Call the Law Offices of Wolf & Pravato for Legal Support
Did you or a loved one suffer crushing injuries in a car accident? You have legal options if another party's negligence caused the collision. A car accident lawyer from our team can pursue damages that account for your pain and suffering, lost income, and healthcare costs.
To begin a free case review, dial (954) 633-8270. We can set your case in motion today.