Motorcycle Accident Injuries: Physical, Emotional, and Financial Consequences
A motorcycle accident can leave you with disabling, even disfiguring, or potentially life-threatening injuries. If you are represented by a motorcycle accident lawyer, they will document the impact of your motorcycle accident injuries—physical, emotional, and financial. When your attorney pursues compensation on your behalf, its value will include all these factors.
On your own, it can be hard to collect all the documents that prove the value of your tangible damages. It can be even more difficult to determine the monetary value of your intangible damages. A personal injury lawyer can handle it for you. Their goal is to recover your medical bills, lost wages, pain and suffering, and more. They will create a detailed list for you and support its value with evidence, documents, and expert testimonials.
The Physical Impact of Motorcycle Accident Injuries
A devastating motorcycle accident can take a tremendous toll on you. Motorcycle accident effects include the injuries you sustain and the costs of treating and recovering from them.
A collision can leave you with injuries that take a temporary physical tool, such as road rash, bruises, lacerations, and broken and fractured bones. It can also leave you with catastrophic injuries that take a severe physical toll, including:
Limb loss that will require physical and occupational therapy support, prosthetics, and rehabilitation to learn to cope and regain mobility
Digit loss that will require specialized help to learn how to manage everyday tasks and personal care
Facial disfigurement and tooth loss that can require surgery to reconstruct damage and restore your appearance
Traumatic brain injury which can cause life-changing physical disabilities and require lifelong care and support
Injuries that change your physical appearance and ability can create substantial medical bills. They can also take a significant emotional toll and require additional support and coping skills.
Motorcycle Accidents Can Lead to Physically Disfiguring Injuries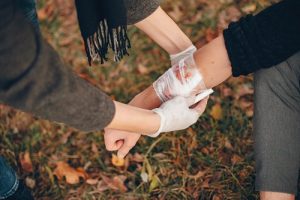 Injuries that cause visible disfigurement can have a long-lasting effect. Even physical disfigurements that can be treated effectively can take time to recover from. Some aesthetic or corrective surgeries may have to wait until your physical recovery is complete. You can recover compensation for the time you endure the physical and emotional pain and suffering of such injuries.
The Emotional Impact of Motorcycle Accidents
A west plam beach motorcycle accident lawyer can take a severe emotional toll on the injured party. The trauma of dealing with your injuries can also take a significant psychological toll. It can leave you with post-accident fears, including post-traumatic stress disorder that prolongs recovery times and requires mental health support.
Psychotherapy
Cognitive therapy
Antidepressants
Anti-anxiety medications
You may also require periods of rest in a mental health care facility. The at-fault driver can be compelled to cover the costs you incur to recover from the psychological trauma you endured.
Motorcycle Accident Psychological Trauma
The emotional impact of a motorcycle crash can include more than the toll of coping with your injuries. It can also include the trauma of living with their long-term results. That can include coping with injuries that cause temporary or permanent disfigurement.
These, too, can have an effect on your mental health, and you may need help coping with those changes. The at-fault party can be compelled to cover the costs of treatments that help you feel better and start rebuilding your life.
The Financial Impact of Motorcycle Crash Injuries
 fort lauderdale Motorcycle accidents lawyer  can create a plethora of medical bills to treat your injuries. At the same time, your injuries will prevent you from returning to work. The at-fault driver can be compelled to cover these costs, which can include:
Emotional distress
Income losses
Loss of enjoyment of life
Medical care
Mental anguish
Pain and suffering
Physical disability
Physical disfigurement
Property damage
Total property loss
Your lawyer will document the accident's financial toll and compile the receipts, bills, and other evidence that prove their monetary value.
Motorcycle Accident Wrongful Death Damages
Sadly, fort Myers motorcycle accident lawyer consequences can include fatalities. If your family lost a loved one in the accident, you can recover the following wrongful death damages:
The costs of making final arrangements
The deceased person's medical bills
Your family's emotional pain and suffering
Loss of your loved one's financial support
Loss of their domestic contributions
Loss of consortium, guidance, and society
While nothing will atone for the sudden loss your family has experienced, a Miami motorcycle accident attorney can help you hold the at-fault party accountable for the negligence that led to your loss.
Call (954) 633-8270 for Help Recovering From Your Motorcycle Accident Injuries
If you or a loved one was injured in a recent motorcycle accident, our law firm will advocate for you. With our legal guidance, you can recover from the physical, emotional, and financial impact of motorcycle accident injuries.
Start building your case for financial recovery by contacting our consultation team at the Law Offices of Wolf & Pravato today. Call us at (954) 633-8270.