May 18, 2015, Japanese air bag supplier, Takata Corporation, affirmed that 33.8 million of its inflator mechanisms are defective. This latest number will practically double the amount of cars and trucks that have already been recalled, here in the United States.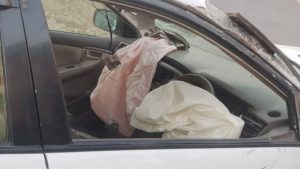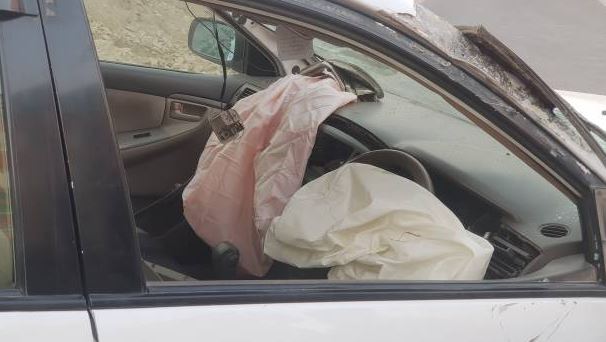 The National Highway Traffic Safety Administration has been arguing with Takata over the last year about the magnitude of the recall as well as exactly why millions of air bags continue to explode. Even now, Takata and automakers continue to search for the root cause of the inflator defect, but it still remains unclear. However, Takata has admitted wider, structural problems with its airbag inflators than they have in the past.
Over the last year, Takata fought against these recalls and even went so far as to say that the agency couldn't force them to issue a recall.  This week Takata is eating their words. This latest recall will make the Takata exploding air bag recall the largest recall in the history of The National Highway Traffic Safety Administration.
The problem with the Takata's air bags is that they can violently explode and blow apart a metal canister and send shrapnel into the passenger compartment. The air bags are responsible for six deaths worldwide and more than 100 injuries.
Ten automakers, including Honda Motor and Toyota Motor, have recalled 17 million vehicles in the U.S. and more than 36 million worldwide because of the problem. Those numbers will grow by millions because of the new agreement. The New York Times reported that the agency won't have a final breakdown of all the makes and models affected by the expanded recall for several days, and that the final number of defective cars may shift downward as more tests are performed. They also reported that Mr. Rosekind, administrator of the safety agency, acknowledged that the repairs could take several years to complete, but that consumers could still drive their cars in the meantime.
Senator Bill Nelson of Florida, a key figure in a congressional investigation into the defective airbags and persistent critic of Takata, was pleased with this week's announcement. He said, "Folks shouldn't have to drive around wondering if their airbag is going to explode in their face or if their car is going to be on another recall list. Let's hope Takata's admissions today tells us the whole story."
Update July 11, 2015:
Florida is getting hit especially hard in what is now considered the largest safety recall in American history. Takata's air bag inflators can explode with too much force in a crash, blowing apart a metal canister and spewing shrapnel into drivers and passengers. The Takata airbag recall is allegedly responsible for at least 100 injuries and eight deaths, one of which was an Orlando woman.
According to MyNews 13, Hien Tran, of Orlando, was killed by a faulty air bag in October 2014. After a crash, her death was initially deemed suspicious because of cuts along her neck. But a federal safety report confirmed the woman's neck was sliced by metal shards from her vehicle's air bag.
The National Highway Transportation Safety Administration reported that between 70 and 80 percent of ruptured airbags are coming from the state of Florida. The faulty airbags are especially prone to exploding when exposed to high heat and humidity, two of Florida's most common weather conditions. To date, 34 million vehicles are being recalled.
Despite growing concerns, local dealerships in Florida, say customers aren't getting their automobiles checked. One Toyota dealership owner in Lake Park said, "I think a lot of our customers, actually all automotive customers, are getting so used to massive amounts of recalls that we don't see the panic anymore. People are accepting it more than they did."
That can be a huge mistake. Faulty airbags have been a problem now for more than a decade, and have impacted 11 automakers including Toyota, Honda, BMW, and Mazda.
To find out if your vehicle is on the recall list click here.
If your car is on the auto recall list, get it fixed. Call your dealer immediately to arrange for a free repair. If you are put on a waiting list, ask the dealer for a loaner or a rental car. You shouldn't be driving a car with one of these airbags.
Takata Exploding Air Bags Update (July 17, 2015)- 18 Million More Vehicles Added to the Recall
With continued pressure from U.S. safety regulators, Takata Corp. has now doubled the number of cars and trucks included in what has been called, "the largest auto recall in U.S. history." The total has reached 33.8 million cars with defective airbags.
The original recall was limited to the passenger-side air bag in only high-humidity states along the Gulf Coast (including Florida). Now the recall has expanded nationwide affecting an additional 10.2 million vehicles. Also included in this new agreement is an additional 7.9 million vehicles that will repair the air bags on the driver's side. The original recall was for passenger-side air bags.
The chemical that inflates the air bags can explode with too much force, blowing apart a metal inflator and sending shrapnel into the passenger compartment. The faulty inflators are responsible for six deaths and more than 100 injuries worldwide.
Mark Rosekind, head of the National Highway Traffic Safety Administration declared, "This is probably the most complex consumer safety recall in U.S. history. We know that owners are worried about their safety and the safety of their families."
Originally, getting Takata to do the right thing and declare their inflators defective took safety regulators years. Takata even questioned the agency's authority to order it to conduct a recall.  NHTSA warned that the number of affected air bags could climb even higher.
Car owners who receive recall notices in the mail should schedule an appointment immediately to get their cars repaired. To find out if your car is one of the cars recalled, you can enter your vehicle identification number (VIN) at https://vinrcl.safercar.gov/vin/ to see if your car is included in the recall. The VIN number can be found on the dashboard near the driver's side windshield and on state auto registration documents.
Earlier this year, NHTSA started implementing stiff fines to Takata at $14,000 per day for failing to cooperate in the investigation. The fine reached more than $1.2 million, but was eventually suspended when Takata began to cooperate fully. NHTSA officials said that other civil penalties are still possible.
The recall will cost Takata millions of dollars and it will be a while before Takata and other companies can manufacture all the needed replacement inflators. What happens until then? High-humidity areas where people are most at risk and older cars will be fixed first, followed by the others.
What does Takata have to say? It seems like they are finally on the right path. Takata CEO, Shigehisa Takada said in a statement that the action is a "clear path" to restoring the trust of automakers and drivers. Takata also said that they are committed to continuing to work closely with NHTSA and their automaker customers to do everything they can to advance the safety of drivers. We'll have to wait and see.