It's Bicycle Season. Watch The Roadways
Bicycle accidents in Florida continue to be among the highest in the nation. Read the statistics: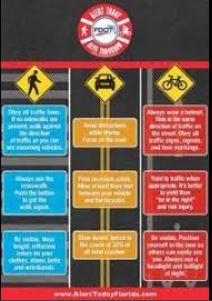 Between 2007 and 2011
– There were 532 bicycle fatality crashes on Florida roads and highways, and 21,935 people were injured during this time period. The top 10 counties in Florida with the highest number of bicycle fatalities and injuries were: Broward, Miami-Dade, Pinellas, Hillsborough, Orange, Duval, Palm Beach, Pasco, Lee, and Alachua. These counties represented 62 percent of bicycle fatalities and injuries in Florida from 2007 through 2011, see Figure 2-2 from the FDOT CAR System.
In 2011 – Florida bicycle fatality rates were nearly triple the national average, based on the National Highway Traffic Safety Administration (NHTSA) Traffic Safety Facts reports. The bicycle fatality rate in Florida increased from 0.40 fatalities per 100,000 persons in 2010, to 0.63 in 2011. Florida represented six percent of the U.S. population in 2011, but accounted for 11 percent of all U.S. pedestrian fatalities and 17.4 percent of all U.S. bicycle fatalities.
In 2012 – Among all states, cyclist fatalities were highest in California (124), followed by Florida (122), and Texas (56). The proportion of cyclist fatalities among total fatalities in states ranged from a high of 5 percent (Florida) to a low of 0.5 percent (Montana). The highest fatality rate per million population was in Florida (6.32) followed by Louisiana (5.2)
Safety Precautions for Cyclists
Because of lack of protection, bicyclists are considered at risk road users in the event of a crash, but there are some things that you can do to help protect yourself:
Always wear a properly fitted helmet whenever you go riding. Wearing a helmet is the number one most effective way to prevent head injuries if involved in a bicycle crash.
Be visible to drivers. Wear fluorescent or brightly colored clothing during the day, and at dawn and dusk. If riding at night, use a front light and a red reflector or flashing rear light, and use retro-reflective tape or markings on equipment or clothing.
When you are on a bicycle you are required to obey the same rules of the road as other vehicle operators, including obeying traffic signs, signals, and lane markings.
When cycling in the street, you must ride in the same direction as traffic.
Alcohol consumption, either by the driver of a motor vehicle or the cyclist, was reported in more than 37 percent of the traffic crashes that resulted in cyclist fatalities in 2012. In 32 percent of the crashes, either the driver or the cyclist was reported to have a BAC of .08 g/dL or higher. Lower alcohol levels (BAC .01 to .07 g/dL) were reported in 5 percent of the crashes.
Safety Precautions for Drivers
When driving your car, remember to share the road with bicyclists. Be courteous—allow at least three feet of clearance when passing a bicyclist on the road
Be on the lookout for cyclists before opening a car door or pulling out from a parking space, and yield to cyclists at intersections and as directed by signs and signals.
Watch out for cyclists when making turns, either left or right. This is one of the most common ways to hit a cyclist.
Florida Public Health Services
The Florida Department of Health works to protect, promote & improve the health of all people in Florida through integrated state, county, & community efforts. Check their website to learn about bicycle safety, campaigns and education and reports and data.