The jarring impact and trauma of a car accident can cause scoliosis or increase the degree of curvature of your spine if you have a preexisting case of it. If you or a loved one was injured in a car accident and subsequently developed scoliosis, you can recover the costs of your resulting treatment.A personal injury lawyer will collect evidence that proves the cause and costs of your scoliosis and the at-fault driver's negligence. They can then take on the driver and their insurance provider and demand fair and appropriate compensation on your behalf.
What Is Scoliosis?
Scoliosis is marked by a malformed curving of the spine. It can vary in severity from 10- to 100-degree spinal curvature. The extent of your resulting disability, physical appearance, pain, and discomfort will vary according to the degree of curvature. While the condition itself may be painless, the trauma of the accident and the subsequent degeneration of your spine can lead to significant pain. Scoliosis can also prevent you from engaging in previously enjoyed activities and force you to wear a brace or undergo surgery. The costs of your treatments and pain and suffering are compensable, and you can recover them from the at-fault driver with the help of a  fort lauderdale car accident attorney  in your area.
What Are the Symptoms of Scoliosis?
Idiopathic cases of scoliosis—cases without a clearly defined cause—can be asymptomatic. However, according to Cleveland Clinic, common signs and symptoms of scoliosis can include:
Increasing pain
Difficulty standing
Weakness in your core
Muscle degeneration
Loss of height
Decreased range of motion
Varying shoulder height
Seek medical attention as soon as possible after your accident, especially if you notice a misalignment of your pelvis and hips or any of the symptoms listed above. The sooner you receive care, the better.Early diagnosis and intervention can also allow your car accident attorney to include the resulting treatment and recovery costs in your compensation demand.
How Is Scoliosis Diagnosed?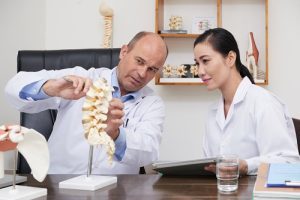 Diagnosing scoliosis is the first step to timely and appropriate treatment. To reach a conclusive diagnosis, your physician will:
Conduct a detailed physical exam
Ask about recent changes in your spine
Review previous imaging exams, if available
Note areas of pain and discomfort
Ask about recent changes to your bladder and bowel function
Test your nerves, reflexes, and muscle strength
Request X-rays from multiple points of view
If you were diagnosed with scoliosis after a recent car accident, your healthcare team will explain your treatment plan and prognosis in detail.
Can Scoliosis Be Treated and Cured?
Treatment for scoliosis typically takes two paths—to slow the progression of the curvature or straighten the spine. Pain control and anti-inflammatory medications are typically how treatment starts. Additional treatment options can include:
Ongoing monitoring of your spine
Physical therapy to improve posture
A short- or long-term external brace
A strengthening and stretching regimen
Pain relief, including nerve block injections
Surgical correction for curvatures of 50 degrees or more
While scoliosis doesn't have a cure, early and effective treatment can improve your quality of life and avert continued degeneration of your spine.
A Car Accident Lawyer Can Demand Compensation for Your Scoliosis Treatment
The immediate and long-term costs of treating scoliosis from a car accident can skyrocket quickly. Concern about its costs should not prevent you from getting the medical help you need, though.
If a fort myers car accident lawyer represents you, they can demand compensation for surgery, medication, physical therapy, braces, and other assistive medical devices.
Additional Recoverable Damages After a Car Accident
In addition to the costs of treating and living with the limitations of scoliosis and other car accident injuries, your attorney can demand the following compensation:
Injury-related lost income
Loss of the ability to earn in the future
Treatment-related travel expenses
Property damage or destruction
Diminished property value
Disability and disfigurement
Physical pain and suffering
Mental and emotional trauma
Loss of enjoyment of life
Focus on feeling better. Your legal team will collect your medical, rehab, and therapy records and bills, build the strongest possible case file, and fight for a financial settlement versus the stress of a lengthy trial.
Call Us for Legal Guidance After a Car Accident
A traumatic car accident can cause scoliosis and leave you with long-term damage to your back and chronic pain. If you or someone you love was diagnosed with scoliosis after a Florida car accident lawyer, you can recover compensation for its related costs from the at-fault driver.
Find out how we can prove the cause of your scoliosis and demand financial compensation for you by contacting. We offer complimentary initial consultations, call (954) 633-8270  the Law Offices of Wolf & Pravato today.