Drowsy Driving Accidents: Using Legal Aid to Hold Negligent Drivers Accountable
Drowsy driving accidents can cause serious damage to your body, your car, your career, and your personal life. Fortunately, holding negligent drivers accountable with legal assistance is one of your rights as an accident survivor.
A car accident lawyer can help you by explaining what your rights are, finding evidence against the liable party, and fighting for the drowsy driving compensation you deserve.
How Drowsy Driving Accidents Happen

The term is self-explanatory: a drowsy driver is someone who gets behind the wheel when they are too tired to think straight or make good decisions on the road. The National Highway Traffic Safety Administration (NHTSA) states that driving while fatigued caused 684 deaths in 2021 alone.
Drowsy drivers are negligent drivers. Whether fatigue is caused by a medical condition, unusual work hours, or family obligations, a lack of sleep affects your ability to:
Stay awake and alert
React quickly to unexpected events or dangers
Clearly see and hear everything around you
For these reasons, drowsy drivers are more likely to stray into other lanes, not notice if a light changes from green to red, and hit other road users.
Your Rights After a Drowsy Driving Collision
After any sort of personal injury, including those caused by drowsy driving accidents, you can file a case against the negligent party. Holding negligent drivers accountable with legal assistance is an important right that you should take seriously.
Note that you have a limited time to exercise this right. For instance, Florida law, found in Florida Statutes § 95.11, generally gives you two years. Other states may give you more or less time to begin a case. It is therefore a good idea to consult a car accident attorney as soon as possible to:
Check and see if you still have time to file your case
Protect your right to financial compensation
Give your lawyer sufficient time to find evidence of the liable party's negligence
Hiring a Legal Representative After a Car Accident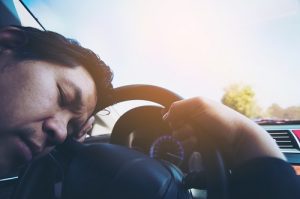 Legal assistance for drowsy driving accidents is available. Drowsy driving injury attorneys have experience with cases involving fatigue and can guide you through the process of recovering compensation for your injury. They may do this by:
Assessing your case at no cost or obligation, even before you officially hire them to represent you
Gathering evidence, such as police reports, medical records, and surveillance footage
Identifying and confronting the liable party and asking their insurance company to pay you a fair amount for your bodily injuries and monetary losses
Handling paperwork, including filling out forms and receiving material from other parties
Negotiating with the insurance company until they agree to pay a just settlement
Representing you in court if an insurance company refuses to offer a fair settlement
Drowsy driving lawsuits allow accident victims to seek money to pay for accident-related damages, such as medical expenses. They also enable you to hold a negligent driver accountable for their actions, making your community safer for everyone.
Do You Need Legal Assistance After a Drowsy Driving Accident?

Legally speaking, you are not required to hire a personal injury lawyer. You may even be tempted to settle your case privately without input from  fort myers car accident lawyers or insurers. However, this could cost you the money you genuinely deserve for the harm caused by the drowsy driver.
Remember that it is a Miami car accident lawyer's job to be your ally. They understand that you have a lot on your mind following an accident, including:
Getting medical treatment
Making arrangements for others to handle your familial and professional responsibilities while you recover
Processing the accident
Providing comfort and advice to any loved ones who were in the accident with you
By hiring a fort lauderdale car accident lawyer to help with your case, you do not have to worry about handling any aspect of your personal injury lawsuit alone. Not only that, you would always have someone to turn to if:
There is an unexpected development that you want to get a professional opinion on
You are confused about your options and want to ask questions about what you should do next
You would like a different perspective on a situation that was very harrowing and emotional for you
The liable party or their representatives say or do something that does not seem right to you
Filing a personal injury lawsuit against a fatigued driver is never easy, but it can be much less stressful with legal assistance from a personal injury attorney.
Call Us After a Drowsy Driving Accident
The Law Offices of Wolf & Pravato is devoted to helping our clients recover compensation after accidents of all kinds, including drowsy driving accidents. To learn more about holding negligent drivers accountable with legal assistance, call us today at (954) 633-8270 so our legal team can assess your case free of charge.