Are civil lawsuits common in motorbike accidents?
Civil lawsuits are common in motorcycle accidents to allow the injured party to recover damages from the at-fault party. The filing process and trial can be complex and lengthy, and parties must meet specific filing deadlines. Most motorcycle accident lawsuits will not go to trial. Even those that do will likely resolve with a settlement.
If you or a loved one suffered an injury in a recent motorcycle accident, you can hire a fort lauderdale personal injury lawyer. Their familiarity with state and local law means they can file your lawsuit on time, negotiate with an insurance company, and work toward the best possible settlement for you.
What Happens if My Motorcycle Accident Case Goes to Court?
This is an unlikely outcome. If your case goes to court, a motorcycle accident lawyer will start by filing your lawsuit within the allotted time. They will also:
Use the discovery process to review all case evidence
Conduct discovery sessions to interview witnesses
Prepare you and other witnesses to take the stand
Handle cases-related filings, motions, and hearings
Prepare supporting evidence and exhibits for trial
An attorney will represent you at trial but will also work hard to settle your case. This is how parties resolve most cases like yours, and they have time to settle the case until a court delivers a verdict.
Do I Need a Lawyer to Negotiate a Settlement?
You do not have to have a  west palm beach motorcycle accident lawyer negotiate a settlement for you. If you have a legal representative, they can protect you from a speedy but flawed settlement and bad-faith insurance practices. When motorcycle accidents settle out of court, it is usually because the evidence indicates the at-fault driver's negligence.
Your lawyer will build a case file that could contain:
Police report
Witness statements
Salary history records
Injury photos
Accident scene photos and videos
Motorcycle repair receipts
Motorcycle replacement estimates
Your  fort myers motorcycle accident attorney will also organize your evidence and field settlement offers for you. They will communicate with the insurance company and update you throughout the settlement process.
What Is the Deadline for Filing a Civil Lawsuit?
All civil lawsuits in boynton beach motorcycle accidents have a filing deadline called the statute of limitations. Failing to file your lawsuit on time could prevent you from filing it. It varies based on several factors, including:
The state you were in
The accident's outcome
The at-fault party's actions
The injured party's age
Various other factors could alter the filing deadline. Your lawyer will clarify any determining factors and work hard to comply with the statute of limitations.
What Compensation Can I Get From a Civil Lawsuit or Out-of-Court Settlement?
No one should experience financial hardship after an accident that someone else's negligence caused. When your lawyer files your insurance claim or lawsuit, they will demand economic and non-economic damages on your behalf. Where applicable, they could demand wrongful death damages for surviving families.
Medical Bills and Other Economic Damages
Economic damages after a motorcycle accident are tangible and are typically easy to document. They include:
Past and future medical bills
Past and future lost income
Loss of your future ability to earn
Treatment-related travel expenses
Rehabilitation and therapy
Motorcycle damage or loss
Diminished motorcycle value
These damages represent costs you have or will experience out of your pocket. If a motorcycle accident lawyer represents you, they will demand these costs from the negligent party.
Pain and Suffering and Other Non-Economic Damages
Non-economic damages are intangible losses caused by the accident and its aftermath and can include the following:
Physical disability
Disfiguring injuries
Pain and suffering
Mental anguish
Emotional distress
Impaired quality of life
Your legal team will compile your written prognosis and other documents proving these intangible damages' value.
Wrongful Death Damages After a Fatal Motorcycle Accident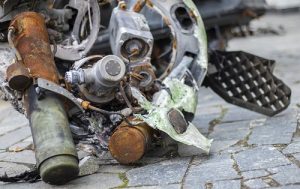 If your family lost a loved one in an accident, you might be able to recover wrongful death damages, which include:
Funeral and burial expenses
Loss of the decedent's income or expected earnings
Loss of their domestic support
Loss of consortium or companionship
Loss of guidance and support
The decedent's diminished quality of life
The decedent's pain and suffering
Your lawyer will explain who can file a wrongful death action under the laws of where you live and which family members could benefit from a financial award.
Get Help Filing a Civil Lawsuit After a Motorcycle Accident
Filing civil lawsuits is common in  fort lauderdale motorcycle accidents lawyer. Doing so is a complex process you do not have to manage on your own. If you or a loved one suffered injuries in a recent motorcycle accident, our law firm will file your lawsuit or negotiate a settlement on your behalf.
Get started today by contacting our consultation team at the Law Offices of Wolf & Pravato. Call (954) 633-8270 to learn more about how our motorcycle accident lawyer will advocate for your financial recovery.